We're Not Done Yet But Coaching Changes Reach Record 54 for 2022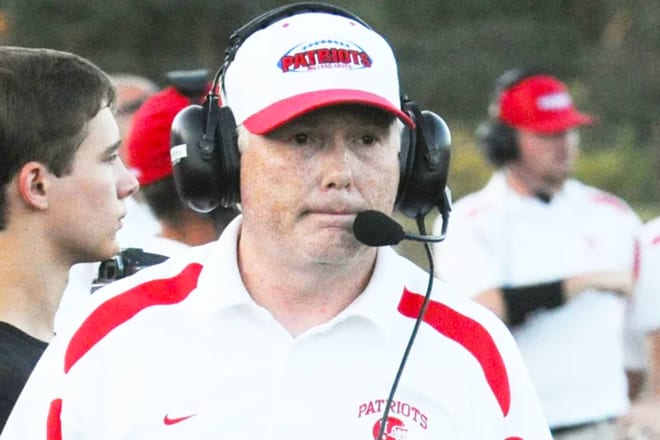 Huskerland Prep Report has tracked head coaching changes for over 20 years and leading up to the 2022 football season we have a shockingly high record number of them. I mean, really shocking.
* Niobrara/Verdigre filled its head coaching position with a 20-year veteran HC, Jeff Shabram, who was an assistant on the N/V staff and had earlier ben the head coach at Summerland and Clearwater/Orchard. Also since we last spoke Thayer Central is looking for a new head coach, with former HC Jereme Jones accepting a job at Hampton, taking over for Carson Klute.
At Sumner-Eddyville-Miller, former co-head coach Grant Lewandowski stepped aside and with former assistant Shane Hrasky joining Darby Line as co-head coaches.
Besides Thayer programs still looking to fill head coaching positions for this fall are Walthill in Class D-2 and Six-Man programs Creek Valley and Lewiston.
Last week's updates to this list include Kolin Koch in at Twin River and Kurt Altig at North Platte. Both are former assistants within the program. According to my records that leaves only Creek Valley and Lewiston, two six-man programs, and eight-man Niobrara/Verdigre yet to name head coaches for 2022.
To date there will be 54 head coaching changes in Nebraska high school football for the coming season, a mixture of retirements, transitions and new programs being established. It is hard seeing some of my friends leaving the game, though it happens every season.
Included in the changes are the retirements of historic figures like Millard South's Andy Means, Omaha Westside's Brett Froendt, Milford's Marty Hingst, Plattsmouth's Bob Dzuris, Exeter-Milligan's Dean Filipi, Pleasanton's Ricci Westland, and even defending Six-Man champion coach Landon Miller at Cody-Kilgore. Hingst and Filipi both won two state championships in their respective tenures, with Filipi taking Exeter-Milligan to a third state final; Means lead Millard South to a state title and two other finals; Froendt led Westside to the three most recent Class A state finals, winning once. Westland led Pleasanton to a state final and Miller took Cody-Kilgore to a pair of state finals, winning state last November.
Also stepping down from head coaching positions are Dr. Jon Cerny at Bancroft-Rosalie, a three-time state finalist and state champion, who served as co-head coach for BRLD in 2021, and Matt McGinn, who coached Anselmo-Merna to one state final and played for the Coyotes in another, in the first year the finals were played at Memorial Stadium. Both will remain on staff as assistant coaches.
Another of our most accomplished head football coaches, Scott Trimble, stepped down as head coach at Harvard to take an administration position at Medicine Valley. He won a state title at Harvard, which goes nicely with the four he won previously while coaching at Arthur County. (And remember, his Arthur team is the only to ever appear in Sports Illustrated, so there is that...)
At East Butler, state champion Shawn Biltoft stepped down and will concentrate on his duties as the elementary school principal.
Another move that rattled the coaching timbers came with Omaha Burke's state championship coach, Paul Limongi, accepting the Omaha Westside position.
These are all significant in their own way, so let's get on with it, Huskerland's review of the 2022 head football coaching changes...
Table Name
School
New Head Coach
Former Head Coach
@HuskerlandBob Sez

Anselmo-Merna

Troy Gilligan

Matt McGinn

Gilligan was some sort of little superstar quarterback for the Coyotes, part of a highly decorated HS career.

Axtell

Mike Branstad

Ryan Ambrose

Coach Branstad has served as an Axtell High assistant the past four years.

Bancroft-Rosalie

Kyle Elsasser

Dr. Jon Cerny

Mason Alitz

Another former football star (now school principal) takes the reigns from his hall of fame HS coach.

Bellevue East

Aaron Thumann

Nathan Liess

Former Schuyler coach takes over program looking to turn things around.

Bishop Neumann

Jordan Roberts

Ron Pavlik

Coach Pavlik leaves after one season to take the HC job at Omaha Burke.

Boyd County

Mike Hoffman

Bradley Wright

Former Spencer-Naper star takes over his old program (in hybrid form, but still). Coach Hoffman was also a member of the Huskers football program back in the 1990s.

Central Valley

Chip Bartos

Jess Rother

Coach Bartos comes from Giltner and was a great HS receiver at Verdigre, where he learned his ball skills by catching Kolaches. At least that's what I heard.

Cody-Kilgore

Trent Ford

Landon Miller

For is a former assistant who will have only one all-stater returning, as opposed to five on last year's state title team.

Crawford

Trent Grizzle

Rick Barry

Former Fairbury High product comes straight from Chadron State, while Coach Barry is the new AD at Chadron.

Creek Valley

TBD

Joe Kupper

Coach Kupper breathed life into the Creek Valley program, now takes his skills to Garden County where he will be an assistant.

Creighton

Holden Wetzler

Chris Bode

Wetzler was an outstanding player for the Bulldogs, now he takes over a state championship program that will be on its third head coach in three years.

Cross County

Matt Carroll

Hayden Delano

Carroll was Delano's offensive coordinator for these three straight state semifinals, including last year's Class D-1 final. Coach Delano left to take the HC job at C-1 Wayne.

Deshler

Damon McDonald

Josh Nash

McDonald also serves as the school superintendent, Coach Nash will concentrate on his boys basketball duties.

East Butler

Gabe Gauthier

Shawn Biltoft

Coach Biltoft led the Tigers to a state title but Coach Gauthier will working to help the program end a 15-game losing streak.

Exeter-Milligan, EMF

Kory Kalhandt

Dean Filipi

Ol' Dean would just as soon you not make a fuss, but he's leaving after those three state finals and two state titles. Coach Kalhandt was a super state running back for Pius X back in the early 2000s and had served as Ol' Dean's assistant. Friend's Jim Pfeiffer will remain co-head coach.

Falls City

Jack Bangert

Darin Fritz

Coach Bangert coached 12 years at Omaha South before coming to Falls City, where he is also a school administrator.

Franklin

Anthony Campana

Seth Elley

Coach Campana is a former assistant, Coach Elley has taken a job at Silver Lake Schools.

Giltner

Dane McConnell

Chip Bartos

Coach McConnell gets his first crack at head coaching, fresh from the campus of Chadron State College.

Harvard

Terry Owens

Scott Trimble

Coach Owens has been an assistant at Harvard, now ascends to the top job. Coach Trimble has accepted an administrative position at Medicine Valley.

Hershey

Alex Lowther

Greg Welch

Not exactly a fresh start for Coach Lowther, who took over at midseason in 2021, but the former Kearney Catholic star will now have a full off-season to prepare his squad. Coach Welch previously won a Class B state title at Seward.

Kimball

Darrell Howitt

Ben Aarestad

Coach Howitt is a former Kimball High star, taking over his high school alma mater's program.

Lincoln Northeast

Javonta Boyd

Dan Martin

Coach Boyd is a former assistant to Coach Martin, who is leaving to accept a teaching/

coaching position in Colorado.

Lincoln North Star

James Thompson

Tony Kobza

Coach Thompson was an assistant to Coach Kobza, who moves to become the AD at Raymond Central.

Lincoln Northwest

Brian Lauck

Well, nobody.

First-year head coach at a first-year program, Coach Lauck is a product of that always successful Pierce High football program.

Louisville

Matt Shelsta

Chase Rasby

Coach Shelsta is familiar with his surroundings, having previously coached at Elmwood-Murdock before moving to Norfolk, which is where he is leaving for this job. Coach Rasby has accepted a position at dear old Norris High.

Lyons-Decatur Northeast

Mason Alitz

None, at least lately.

After a four-year co-op with Bancroft-Rosalie the Cougars are back on their own. Coach Alitz was co-head coach for BRLD last season.

Milford

Ryan Voelker

Marty Hingst

Coach Voelker is replacing a giant, having served as Coach Hingst's assistant, and previously as co-head coach at Dorchester.

Millard South

Ty Wisdom

Andy Means

Coach Wisdom was a former assistant at Millard South, and back in the day some sort of superstar at Lexington High, with his most recent stop being as HC at Phoenix (yep, that Phoenix) Desert Vista. Don't be shocked to see Coach Means pop up somewhere as an assistant. Just sayin'...

Mount Michael

Allen Burrell Jr.

Greg Wunderlich

Coach Burrell is a former Creighton Prep assistant as was an all-conference player at UNK back in the day.

North Platte

Kurt Altig (interim)

Todd Rice

Coach Altig has been a defensive assistant at NPHS the past two seasons and prior to that coached at Broken Bow. Coach Rice had two successful stints at North Platte, but took a teaching/

coaching gig in Kansas to be closer to family.

Omaha Buena Vista

Keegan Grant

Again I say, none.

Another new program, with Coach Grant a former Northwestern University player.

Omaha Burke

Ron Pavlik

Paul Limongi

Prior to his one-year stop at Neumann, Coach Pavlik was a respected assistant on the Bellevue West staff.

Omaha Concordia

Cruz Barrett

PJ Smith

A former assistant, Coach Cruz tries to get the Concordia program headed in the right direction.

Omaha Westside

Paul Limongi

Brett Froendt

As big a news item as we had in the offseason. Coach LImongi won a state title at Burke and got his team into another final, while Coach Froendt steps aside after three state finals and a state title to lead that powerhouse Westside golf team of his.

Omaha Westview

Ben Ryan

Another new one.

Coach Ryan is the former defensive coordinator at Omaha Burke and gets his shot at building a brand new program.

Plattsmouth

Curtis Larsen

Bob Dzuris

Coach Larsen is a former assistant to Coach Dzuris, who coached at Fort Calhoun and Plattsmouth, for sure, and might have coached The Great Gatsby on that first team of his...

Pleasanton

Noah Pelan

Ricci Westland

Coach Pelan, a Huskerland guy from Aquinas, back in the day, comes to Pleasanton after serving as an assistant at Hartington Cedar Catholic. Coach Westland, who led Pleasanton to a state final in 2020, remains as the school's high school principal.

Raymond Central

Tony Kobza

Wade Houchin

Did we mention Coach Kobza is the Coach, too? (And assistant principal, but who's counting.) Coach Houchin steps aside to focus on his business interest.

Sandy Creek

Andrew Kuta

Jack Shadley

Coach Kuta is a Sandy Creek alum, and he besides football he can also teach the kids how to throw a cut fastball, given his successful baseball career at Hastings College. Coach Shadley accepted a position in the Pierce school systsem.

Schuyler

Troy Schluter

Greg Hansen

Coach Schluter had a real successful run at West Point-Beemer and was an SHS assistant last season. Coach Hansen led Stanton to the Class C-2 state final back in 2004.

Shelton

Ryan Province

Hmm. Turns out it was Ryan Province.

Coach Province was, indeed, the previous Shelton head coach before the program merged with Wood River the past two seasons, when he served as an assistant. (As the great Austin Powers once said, "Allow myself to introduce myself..."

Sidney

Ryan Smith

Todd Ekart

Coach Smith, who is a legend in Sandhills High School sports, was previously the head coach at Hershey before serving as an assistant at SHS the past couple of seasons.

South Sioux City

Jackson Dickerson

Chris Stein

Coach Dickerson served as an assistant to Coach Stein, who has accepted the Alliance High principal position.

Syracuse

David Purdum

Rick Nordhues

Coach Purdum was an assistant to Coach Nordhues, who won 108 games in his Syracuse High coaching tenure.

Tri County Northeast

Evan Colfack

Another new program.

Twin River

Kolin Koch

Robert Fredrickson

Coach Koch has been a football assistant and head wrestling coach at the school, and he's rebuilt his staff to include his father, Mark (former HC at Winside, Pope John) and former N/V head coach Matthew Quick.

Wayne

Hayden Delano

Russ Plager

Coach Plager had a successful run as head coach, now concentrates on his duties as high school principal.

West Point-Beemer

Jacob Ellis

Zac Kliment

Coach Ellis was an assistant on the Cadets staff last season. Coach Kliment led Creighton to the 2018 Class D-1 state title.

Lewiston

TBD

Greg Iverson

Coach Iverson has accepted a position at Southern High School, and will coach track.

Niobrara/Verdigre

Jeff Shabram

Matthew Quick

Coach Quick has accepted an assistant's position at Twin River.

Hampton

Jereme Jones

Carson Klute

Coach Jones has had a successful run at Thayer Central, now heads back to Six-Man.

Thayer Central

TBD

Jereme Jones

Sumner-Eddyville-Miller

Darby Line

Shane Hrasky

Grant Lewandowski, former co-HC.

Coach Hrasky joins the SEM staff, with Coach Line returning as co-head coach.

Walthill

TBD

Jason Frahm